Blue Taste WP Theme
Blue Taste is my first published  WordPress theme.
It's a blue theme with a fixed-size and two-column design (the main content and a right side-bar). It's widget-ready and has a drop down integrated navigation menu.
The design is clean and elegant and is suitable for a blog or a non-blog website
Feel free to download, test it and leave comments.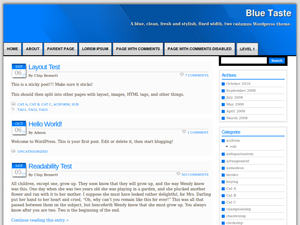 ABOUT HOSTING: Many people asked me about a good hosting to run a WordPress blog. I have an article here in my blog about this topic, but it is in spanish, so I just wanted to add to this post a few lines about the hosting that I am using and I recommend. This blog is being hosted by Hostgator, I tried many hosting services before and up to now I have to say that its the best one I used. The plan that Im uusing is called "Baby Plan" and lets you add as many sites as you want, and installing a WordPress blog is as easy as making a few clicks in the control panel. So, thats what I recommend right now and I will leave this lines in this post until I get disappointed by the service, hope that will never happen. This is the link for HostGator, and clicking there you are linked to their site as my referral, so, thanks.
116 Comentarios para "Blue Taste WP Theme"
Comentar